CAD-CAM CNC machine toolpath provides efficient methods of machining parts. The latest BobCAD-CAM V27 MultiAxis Mill Pro software offers many advanced CNC milling capabilities that can also be used for 3 Axis part-making.


When it comes to machining 3D parts, have you ever wanted the toolpath to follow the natural flow of a surface(s) vs stepping over at a defined angle? BobCAD-CAM offers many 3D CAD-CAM Toolpath options that allow for "flowline" applications, the most popular being Morph Between 2 Curves.



Typical Applications:
– Blending Surfaces
– Compound Curved Radii
– Negative Taper Wall
– Undercuts
– Blending Surfaces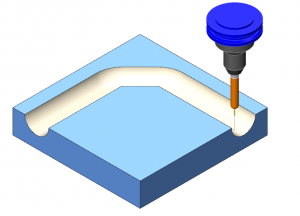 This surface based Toolpath strategy is uses to create a flowline style path, where the tool path follows the "flow" of the surfaces. It's extremely powerful and in many cases is the only tool path to cut your parts the way they need to be cut. Commonly used in multi axis applications like cylinder head porting, impeller blades, fans, marine screws but not limited to 4 and 5 axis. Morph between 2 curves is a blended Toolpath allowing you to machine complex surfaces in 3D surfaces as well. With the addition of check surfaces you'll have control not only to limit where the tool path is generated, but also to define areas where you do not want Toolpath created. Collision checking for the tool shank arbor and holders can be turned on as needed to ensure a clean gouge free Toolpath for your all your complex machining needs. To define this toolpath you'll need 2 curves either surface edges or wire frame, and the drive surfaces you want the tool path created on. The resulted toolpath blend a path from the 1st curve to the second curve following the UV lines of the drive surfaces you selected.
Try a free BobCAD-CAM demo HERE and experience the latest in CAD-CAM CNC machining technology!